Discover more from Culture & curiosity
A regular irregular newsletter on culture, sustainability, community and anything else that piques my curiosity. By Jasper Visser.
#11 The Climate
This was not an easy week. When I learned about the fire in the Moria refugee camp on the Greek island of Lesbos, I felt sick and powerless. Like so many people, I think that Europe's inability to welcome and support refugees is a profound moral weakness. Even if your only set of values is economic growth, time and again refugees prove to be an asset to our continent. My government, after much ado, has made the grand gesture of allowing 100 especially vulnerable people into the country. But only when these 100 are discounted in next year's quorum. It's disgraceful.
When I lived in Madrid, at the end of my street, there was a squatted house where illegal immigrants found their footing in Europe. The house never caused any trouble. One day, while walking by, I struck up a conversation with James. James was a successful business owner in Nigeria. A well-known brand of beers had invited him to Europe for an event, and James had decided to forego his return flight. That decision turned him from a wealthy entrepreneur into an illegal. He still dressed for his old role.
James's dream, he told me, was to travel north, find a job, get a residency permit, and bring his wife and kids over. Then, they would have a proper education and a better chance in life. If I could help him, he asked. He didn't have any Spanish and wanted to make it up north. Apart from chatting a bit and assuring him the Schengen borders are really open (but that he still could best cross them on foot or in a car, as trains get occasional checks), I didn't know what to do for him. I still don't. It makes me feel terrible.
With the climate crisis getting increasingly worse, the number of refugees worldwide will increase dramatically. The International Organisation of Migration mentions estimates ranging from 25 million to 1 billion 'climate refugees' by 2050, with 200 million being an often repeated number. It should be noted that 'climate refugee' is not an internationally recognized legal term. Many more people will be forcefully displaced because of climate change, without becoming refugees.
We need to get our act together as humankind and take urgent climate action as well as address to profound injustice and inequality that it creates.
This week, fortunately, I can congratulate two climate initiatives on their activities. I'll end this newsletter with my new favourite podcast, also focused on the climate (yes, I quickly change favourites in podcasts). Also, I'd like to remind you of the next global climate strike on 25 September. The link has resources, and if you work in or for a museum, here are things you can do to take action. I'm in Leiden that day, supporting the local strike and doing SDG-related work from our HQ for the day in The Field, a circular meeting space. Come by, if you're around!
---
On Thursday evening, I attended the opening ceremony of Leiden Shorts, the international short film festival in the city. Their theme this year is Climate (In)justice. On opening night, most short films focused on the injustice part of the theme.
Within minutes, the short animation film Apfelmus brought me to tears. The opening scene, in which one bird tells another bird it had imagined being a bird quite differently, freer, is one I will not soon forget. Like short stories, I have an ambivalent relationship with short movies, but Apfelmus's 7 minutes were among the best storytelling I've ever seen.
Another highly engaging short film was the Brazilian story Batalha. It beautifully depicts our inability to communicate about anything in contemporary society, framed by the elections that brought Bolsonaro to power. At a specific moment, the crowd in the film starts chanting "Racistas, fascistas, não passarão" which reminded me Madrid as well. The famous line from the siege of Madrid – "No pasaran" – was graffitied on a prominent wall in my neighbourhood. It could be the motto of Frontex, Europe's border agency.
The Iranian film Where We Used to Swim was closest related to the issue of climate change and biodiversity loss. It tells the story of Lake Urmia, once Iran's largest lake, and now only 5% of its original size. With the lake, not only water was lost, but life and culture and community. When humans mess around with their environment, ultimately, humans lose.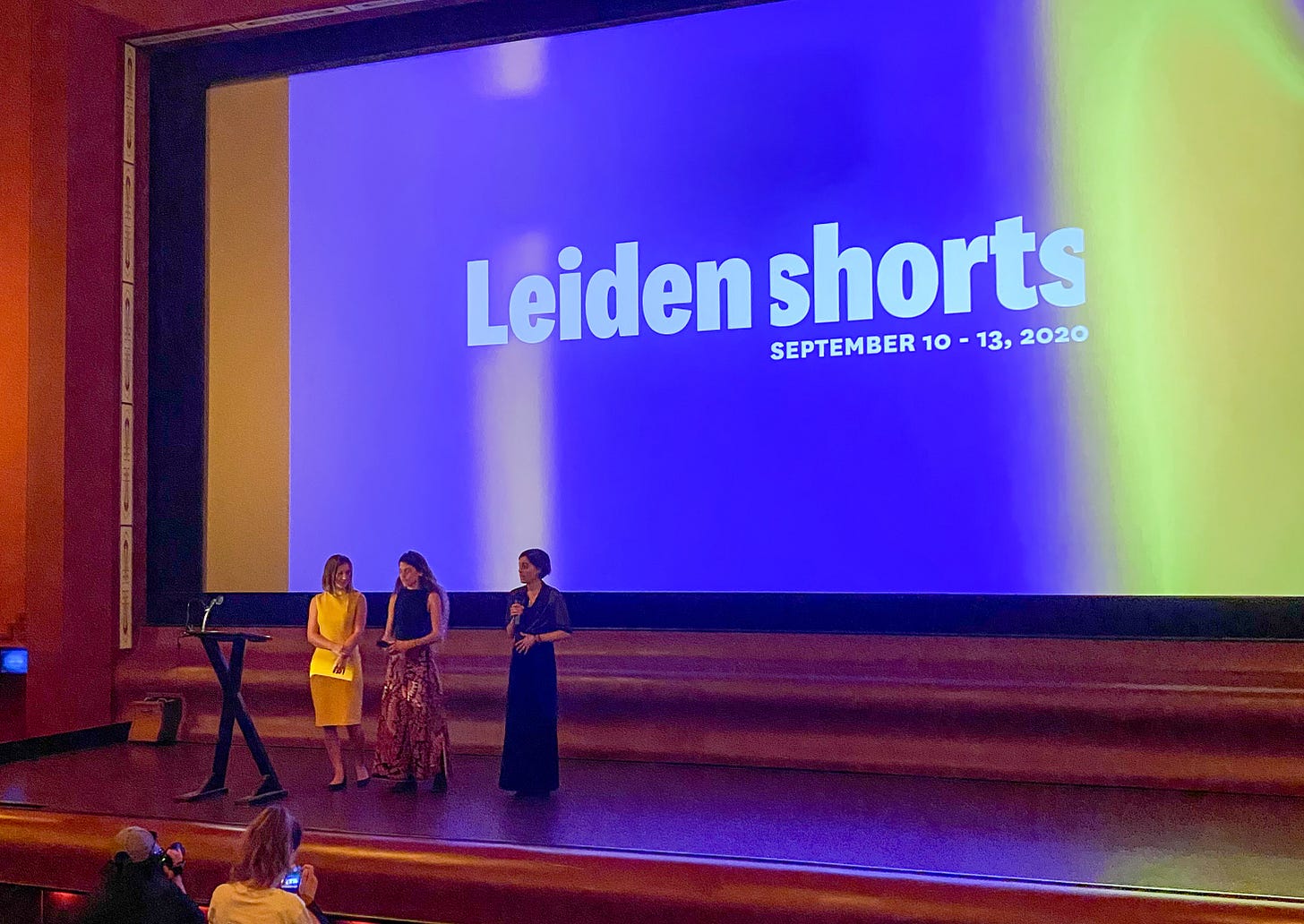 ---
Today, I visited the closing day of a temporary exhibition of the Klimaatmuseum (Climate Museum) at Fort Pampus. This pop-up museum has been linking climate action and art for the last two years, with considerable success. Fort Pampus, a historical fortress island just north of Amsterdam, is the ideal place for the museum, given that Pampus is ambitiously self-supporting and working to be fully circular.
We participated in a workshop by the artists Anne Fehres and Luke Conroy. The work they made for the exhibition – Talk To Me – explores the island from the point of view of a leaf of grass, a shrub, and a stone. Each of these gave an interview about its life on the island and a (climate changed) future. I think the kids enjoyed rolling around in the grass, thinking about its likes and dislikes.
What I personally liked best were little exhibits for each of the elements. The wind (air) exhibit asked us to look around at all the things the wind puts in motion. It was a beautiful day, and the water around Pampus was filled with sailing boats. The water exhibit explained how in the old days at the fortress rainwater was collected to be turned into drinking water. Now, they're investigating if they can do this again. The tools and techniques to live sustainable are all around us, we just need to see them with new eyes.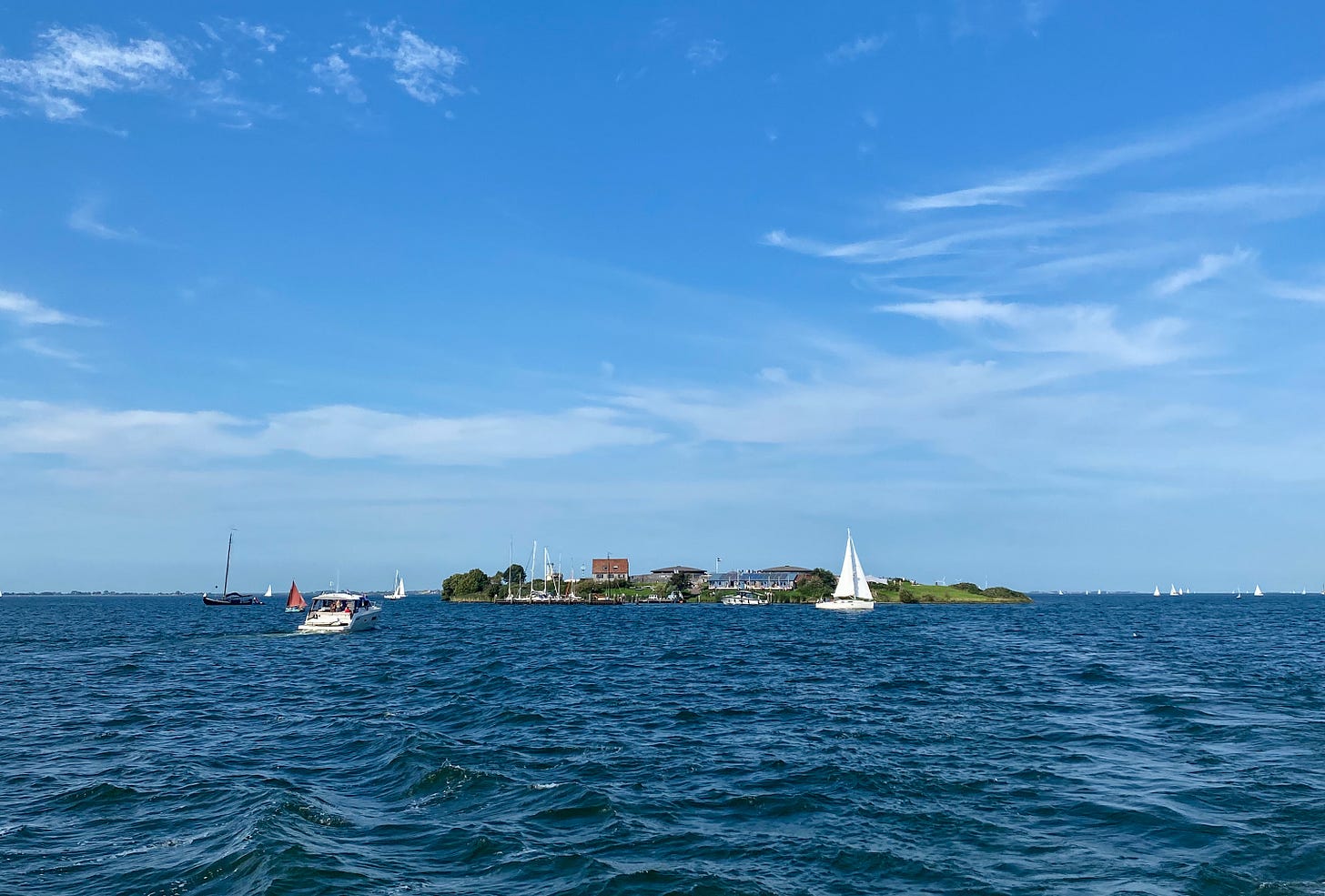 ---
And then my new favourite podcast. How to save a planet is a new podcast by Gimlet Media. It tries to answer the question of what we, collectively, can do about climate change. Alex Blumberg of Reply All-fame and Dr Ayana Elizabeth Johnson take a non-nerdy, super optimistic deep dive into the topic. 
I loved the episode on 20 million trees. In it, they show how a YouTube celebrity I'd never heard of, MrBeast, got his teenage following to donate 20 million dollars to plant 20 million trees to combat climate change. They interview the campaign director Matt Fitzgerald, a nonprofit marketeer. His line that made me ROFL, when he mentioned the impact of people like MrBeast with millions of YouTube subscribers and which is so painfully true: 
"I remember looking at the view counts on some of his videos. It was staggering. I mean, if you do, if you do nonprofit video, and you get like 50,000 views on a video, like you've essentially gone viral."
Planting trees is not the only solution to the climate crisis and planting trees alone is not enough, but getting millions of kids to donate 20 million dollars is a fantastic achievement. It certainly makes me want to be a YouTube star that makes the world a better place. It also highlights that we should not be ignoring popular culture in our quest for a better world.
---
Finally, for some optimism at the end of this email, I highly recommend the series Europe's New Wild on National Geographic. In collaboration with Rewilding Europe (an amazing organization!), they explore biodiversity conservation efforts across Europe. In the first two episodes alone, the series touches upon forest management, bringing back extinct species, a lot of Lynxes, and beautiful landscapes in a continent that to me always seems so full of people.
Finally finally, now is your last chance to join our (Dutch language) digital SDG Café on Wednesday 16 September. The topic is the impact of the COVID-19 pandemic on inequality and injustice, with contributions from The Hague Institute for Innovation of Law, UNICEF, and many others.
And I promised a photo of me dressed up as our city's mascot. Well, here it is. The fundraiser was a huge success. And that's really it for this week. Thanks a lot for reading this, subscribing, forwarding, and replying.
I look forward to writing to you again next week!
— Jasper