Discover more from Culture & curiosity
A regular irregular newsletter on culture, sustainability, community and anything else that piques my curiosity. By Jasper Visser.
#15 The doers
Congrats to my father, who launched IIVO this week, 'a next level climate computer.' As managing director of Hoogendoorn Growth Management, my dad works in one of these industries, my tiny country excels in: agricultural innovation. The Netherlands is the world's second exporter of agricultural products. The level of innovation of companies like Hoogendoorn and products like IIVO is mind-blowing to behold. They're indispensable if we want to feed the world while using less water, less energy, and less land.
This week, my newsletter is about the doers. The word 'doers' has become part of my daily vocabulary in the past two years. Doers are the people that act, innovate, and move, often at some personal risk. The COVID-crisis has been a stage for the doers. They kept us afloat.
---
Friday evening, we organized the Evening of Sustainable Development. To celebrate the movement for the SDGs we're building in Leiden, and beyond, we had planned a series of events at different places across the city on Saturday. Stricter COVID-restrictions forced us online. So, I spent the week cycling through a rainy-Leiden and interviewing doers on Zoom. Of course, the upside of all this is that now the videos are available online for all to see. As they're in Dutch, I briefly describe some of the best initiatives in a few lines.
On a windy and rain-soaked Thursday, I interviewed Eveline of Vegetable Park Bontekoe. This 1,000-square meter community vegetable garden produces exclusively for the nearby food bank. Eveline is the head of the board of the food bank. In an empty plot one block away from the food bank, she saw the opportunity to grow fresh produce for the city's neediest. They're concluding their first harvest and have produced over 5,000 kilos of food, enough for about half the food bank's clients.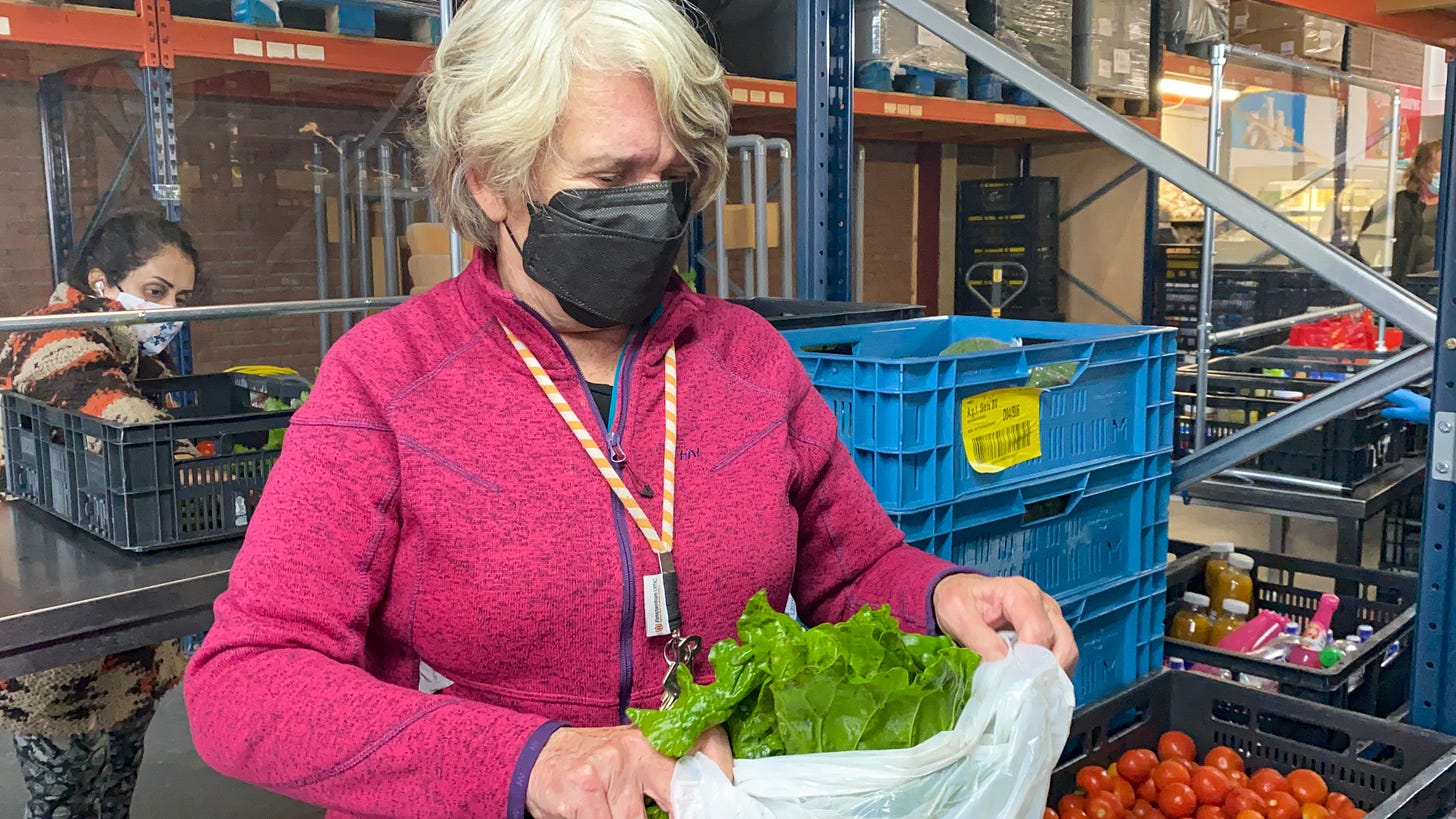 Eveline with fresh produce in the food bank.
Later that day, I met up with Damaru at Hof van Sijtfhoff. Damaru is a successful restaurant owner and catering entrepreneur. Three years ago, he was asked to come to work at the Hof van Sijthoff, where they help people with a range of disabilities find their place in society. Damaru supports and trains people to work in the restaurant. It has grown into a nearly full-time job, on top of his other work as a restaurant owner. 
We had a wonderful chat. On top of everything, Damaru handed me one of their cooking books, 'Sijtje op Recept,' which combines recipes with Damaru's clients and partners' stories. It was very inspirational to see a successful entrepreneur putting his skills and personality to use in a way that helped other people.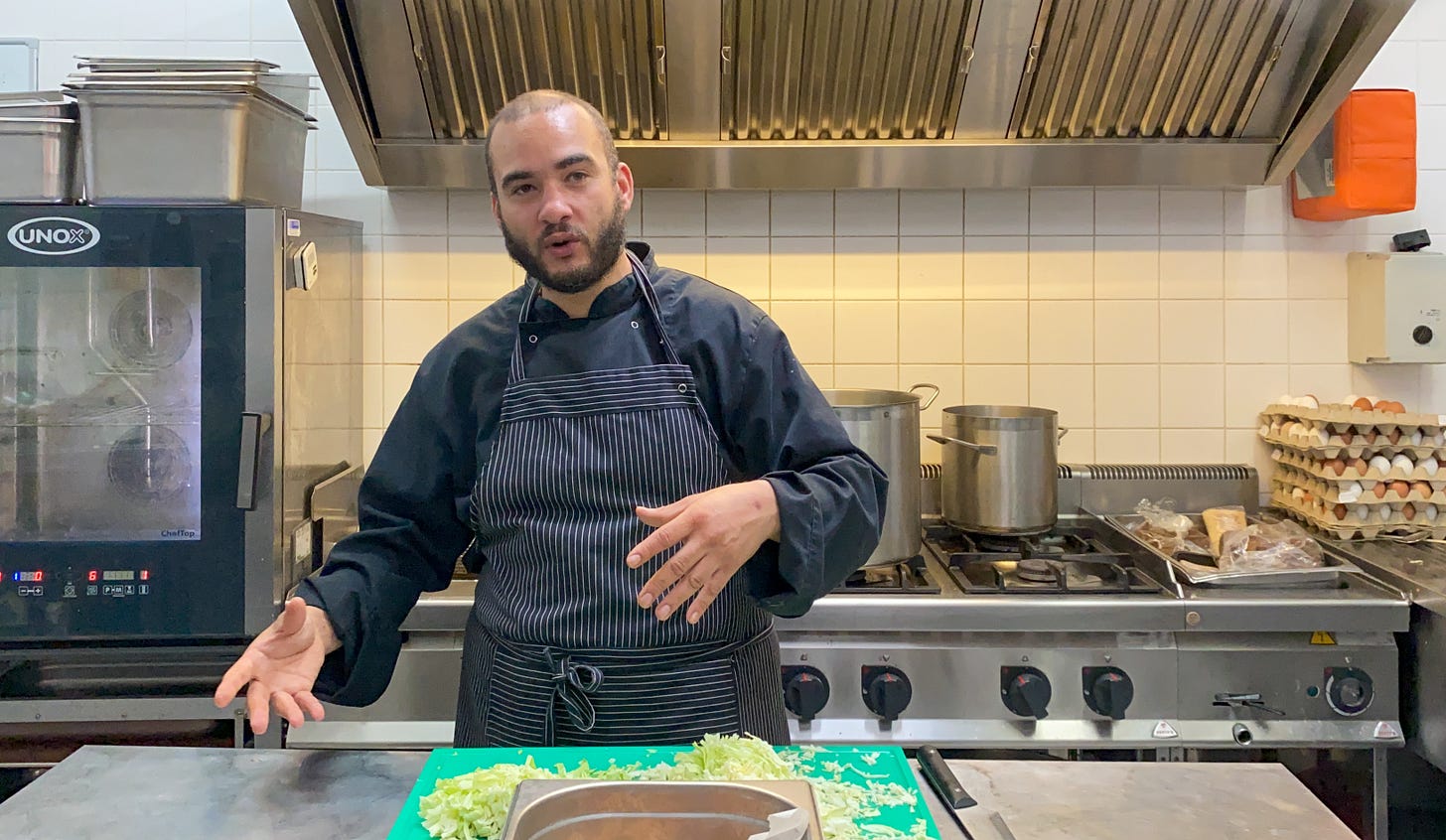 Damaru in his kitchen.
I also did a Zoom-interview with Liselotte and Auke-Florian of Plastic Spotter. Exactly two years ago, they were shocked by the number of plastic cups they found while canoeing through Leiden's canals after a big festival. (Later, they counted over 7,000 cups in 100 meters.) They collected the cups and started an Instagram campaign to demand action. Have a look at the account; it is a powerful work of art.
Their actions were successful. The same festival used re-useable cups next year—the immediate impact: half a million plastic cups that did not end up in the water. Also, the municipality made reusable cups obligatory for all events. More cities are following suit. To further their mission, they now tell their story in a brand new documentary – a must-see.
And the list of doers goes on. I met with organizers who set up a system to allow their neighbors to earn a stake in the local energy cooperative with voluntary work. I got to know the neighborhood organizers who help people make their homes more sustainable. And I learned about the efforts of teachers and students to make education in Leiden more sustainable.
---
On Monday, I hosted a Zoom mixer for MuseumNext, together with Mike Murawski. MuseumNext is entirely digital this year. Although I've been too busy to follow much of the program, the lineup is impressive. I had the change to watch Elaine Heumann Gurian's presentation. Powerfully, she linked recent developments and movements to culture's inability to stand up and take positive action. 
Elaine's talk made me think of a recent episode of the podcast How to Save a Planet. In it, the show's hosts linked the Climate Movement with the Movement for Black Lives. I've always understood climate and environmental action as part of the same agenda as racial and socio-economic justice. What I have been utterly oblivious to, however, is how these are not just part of the same agenda, but the same period. You cannot have one without the other. Listen to the podcast, really, it is such a relevant document for all of us trying to make the world a better place.
In the first year of secondary school, one of my teachers told us, "You are not smart enough to think yet; you simply need to do." Her comment has always stayed with me, although I never really understood it – and probably still don't. Maybe what she meant is that by trying to be smart about something and thinking a lot, you may actually do the wrong thing.
---
Finally, on Friday, Mirjam Bekker-Stoop opened her new photo exhibition in the public space. Mirjam has used public space often to address difficult topics. Well-known in the Netherlands is her traveling exhibition about human trafficking. For her new show, the photographer Linelle Deunk made portraits of 30 youth struggling with depression. Each picture carries the story of its protagonist. Some of the stories are incredibly sad and impressive, others very recognizable and close. Congratulations, Mirjam, on once again placing a complicated story in the middle of our cities, so we can see it and talk about it publicly.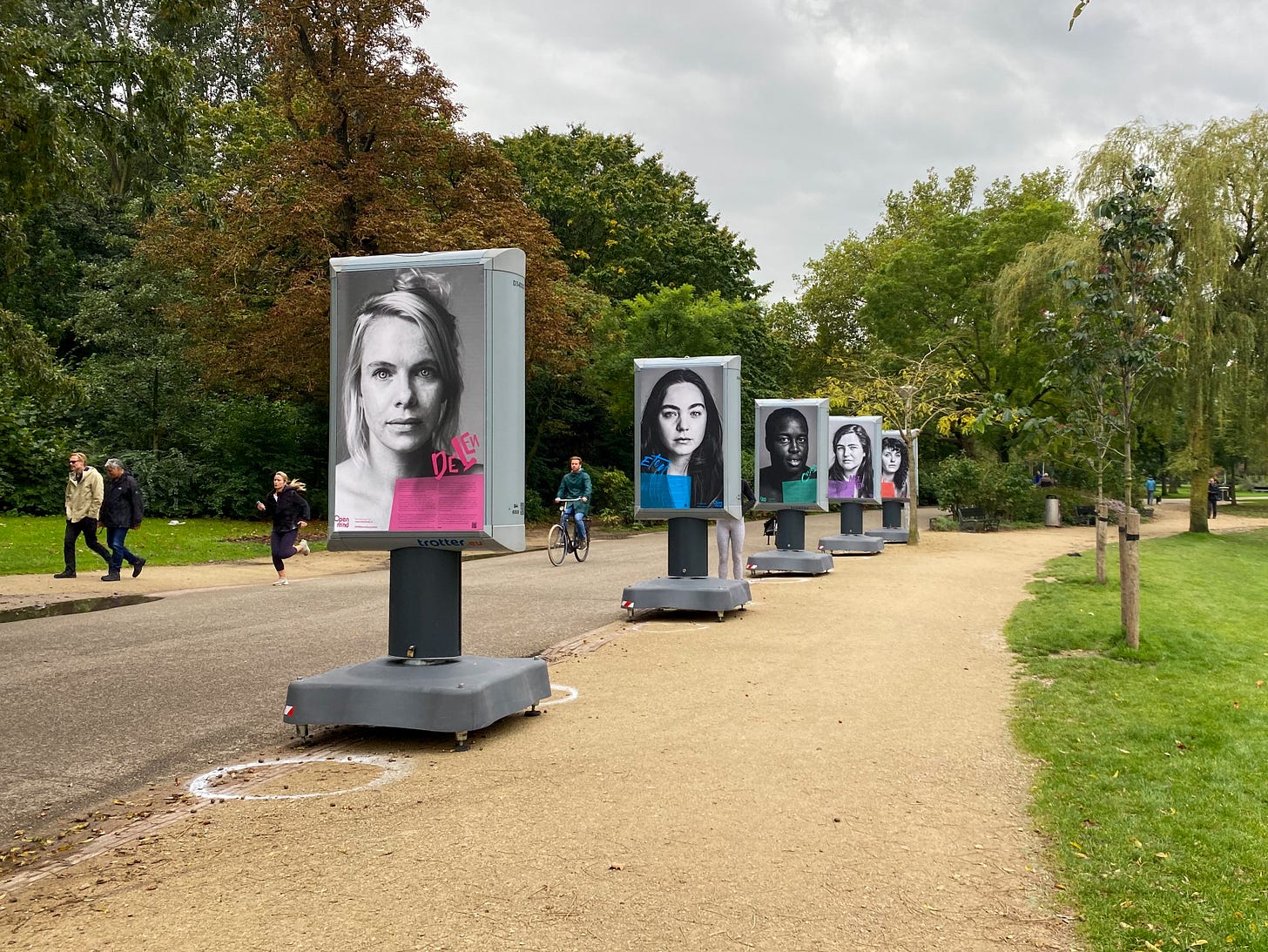 Open by Stichting Open Mind in the Vondelpark in Amsterdam
As always, thank you for reading this newsletter. Thank you for subscribing, forwarding, replying. It means a lot to me. As always, if there's ever anything I can do for you, please let me know.
The week has been so full that I can hardly list the things I didn't write about. They include digital strategies, meetings while cycling, visitor engagement journeys, more about art, citizen science, and so much more. All that, a next time. Until then, take care!
— Jasper