Discover more from Culture & curiosity
A regular irregular newsletter on culture, sustainability, community and anything else that piques my curiosity. By Jasper Visser.
#18 Fashion
First off let me thank all of you who sent me book recommendations and links in response to last week's email. I started reading it immediately. One book that I cannot get enough of is After Australia, recommended by Seb Chan. The dark visions of the future in the book remind me that climate change is not merely about rising sea levels and warmer summers. It is about displacement, food shortages, human rights, and so much more. Equally, migration is not about people who recently arrived alone. It is about all of us, whether we lived somewhere all of our history, a few generations, or have to live somewhere in the future.
I'm still very keen to receive recommendations. So if you have a book recommendation with perspectives on the future from a non-Western or minority perspective, feel free to share.
On that note, if you're Dutch or living in Holland, I set up the opportunity to win a book with perspectives on the future as thanks for your vision. I posted it on LinkedIn on Saturday afternoon, which turns out to be a tranquil time on the professional network, so your chances to win are considerable!
---
It is Sunday evening, and I'm sitting in the bedroom of my youngest, who refuses to fall asleep unless someone is typing on a keyboard in his room. One of the unexpected side effects of working from home and working all hours.
Friday, at the end of a rather busy working week, I decided to give in to one of my greatest vices: fashion.
Somewhere in my year at university, I became obsessed with clothes and the effect you can have with them. Desperately poor and at a time when second-hand shops still had a particular smell, my obsession was mostly with thinking about clothing, not buying it. Whenever I had some money that I didn't spend on books, I would spend it in shops one notch above H&M. Fast fashion wasn't bad at the time.
One day about a decade ago, however, while looking for shirts and shoes, I stepped into a higher-end boutique store. I didn't recognise any of the brands, and I definitely didn't recognise the prices. But they were friendly and told me the story behind every item, and after much ado, I bought a dark blue grandad shirt by the Belgium brand 7d and my first pair of Momas. The shirt was about 160 euros, the shoes 250. Both, I considered outrageously expensive at the time. Then years on, however, I still wear them. The shirt has become my fancy beach shirt. The shoes have seen so many miles that I had to have their soles redone at least thrice.
Sustainability and fair practices in clothing have become a significant issue. And rightfully so. The negative impact of fashion on the world and the wellbeing of millions is entirely unacceptable. A large part of the transition we have to make is from buying lots of fast fashion items to buying much less good fashion and caring for it.
I think one overlooked aspect of this transition is the stories brands and designers tell. A Zara or Versace shirt is largely anonymous. Its story one of money and status. But clothing can be so much more. One of the brands Cris — which is the name of the shop — sells and which I've fallen in love with is Homecore. Their pants are meant to lift your mood with unique pressure points, the shirts boost your spine and ironing them is fun as they are full of little notes on the inside. "Aujourd' hui, j'ai envie de dire je t' aime."
Fashion doesn't have to be about money and status. It can be about comfort and wellbeing. And still, look fantastic. This, already, makes fashion more sustainable. Let alone that sustainable fashion has become so much more mainstream and accessible.
---
One part of the story of fashion is the story of the craft that goes into the materials and its creation. I listened to a podcast today of an astronaut. It was a fantastic podcast, and the astronaut (Colonel Terry Virts) is a very inspirational person. However, at a specific moment, he mentions doing his workout not in a polyester Under Armour shirt, but in a wool mix shirt. "I couldn't believe this technology," he exclaims. It doesn't get smelly, it is not itchy, it's great!
Of course, wool is. This is why sheep and other animals love it. Wool keeps you warm in winter and cool in summer. When cared for well, it is mostly self-cleaning. No plastic in the world can beat that.
If like me, you like fashion or its stories, I highly recommend Articles of Interest. It's a mini-series podcast that "covers a broad range of concepts including the rise of casual wear, the environmental impact of the textile industry and why womenswear doesn't have pockets."
---
My friend Eva has a survey out about fashion and reuse. I think she'll like it if you fill it in.
And while I can go on for quite a while about fashion, I hear my son has fallen asleep, and it is about time to get ready for the week ahead. Thanks for subscribing, reading, forwarding, commenting and everything else. In case you're interested, on Friday, I bought a semi-double breasted Transit suit, a red merino wool Roberto Collina sweater, a shirt by the amazing Dutch brand Delikatessen and, obviously, petrol Homecore trousers. I'll wear them for the coming ten years, so you'll see them for sure.
— Jasper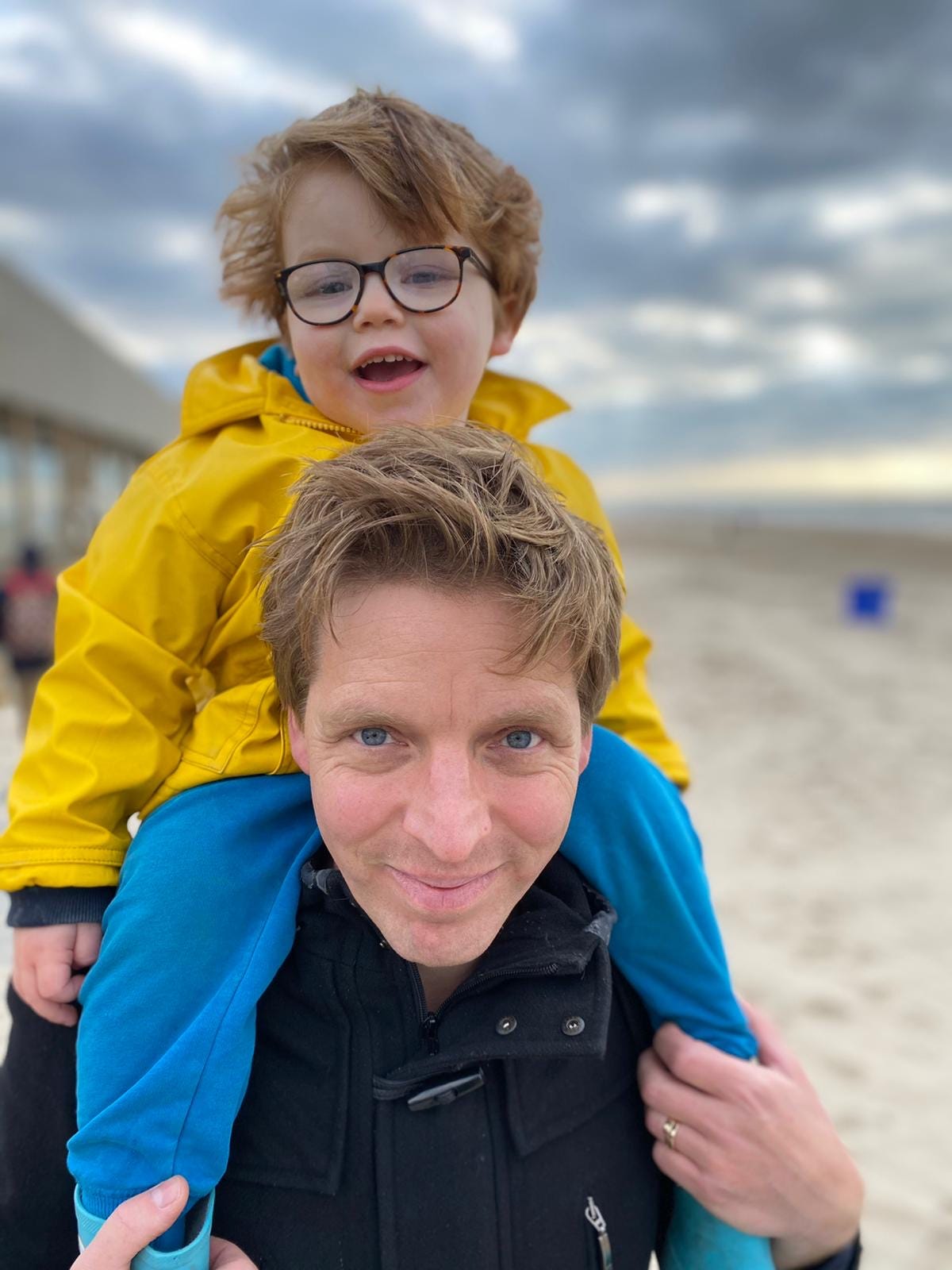 Earlier this weekend, fashionably with my youngest.