Discover more from Culture & curiosity
A regular irregular newsletter on culture, sustainability, community and anything else that piques my curiosity. By Jasper Visser.
#8 Small stories
Congratulations to Medhavi Gandhi and Larissa Borck for beginning their newsletter about digital trends and practices in museums & cultural institutions. I'm looking forward to reading your updates! And there's more fresh cultural content to look forward to this week. The biennial Muze-X conference has planned six (free!) pre-conference webinars with six awesome guests: Nina Simon, Diane Drubay, Alistar Hudson, Kristin Alford, Seb Chan, and Kayleigh Bryant-Greenwell. I'm sure this will be thought-provoking.
School started again in my part of the world, amidst growing concerns about a rapidly increasing number of COVID-19 cases. Large parts of The Netherlands and Europe are 'essential travel only.' My first physical business trip in months has just been canceled. I acknowledge that my worries are small beer, now that Greenland's melting ice sheet has passed the point of no return, and Facebook is making contingency plans for post-election chaos in the USA. But... small beer is beer as well. 
I've always had a thing for the small stories that add depth and color to world events. This week, I'd like to highlight some of these stories. From video essays to sound diaries and mini-documentaries, it is a varied bunch.
---
The COVID-19 pandemic affects all of us, but not all of us equally. Although the virus appears to affect children less, their lives and futures are still severely disrupted. Millions of children have been cut off from education, health care, and sufficient food and nutrition. Shockingly, there is a global surge in the online sexual exploitation of children, something we should all help counter. 
This week I watched UNICEF's profoundly moving video essays Coping with COVID-19. 16 girls from nine countries have been given cameras to document how the pandemic is affecting their lives. Although all of them suffer from the consequences of the lockdown, systematic oppression, and unequal opportunities, the girls in videos are not just victims. I was struck by how powerful and proud they were and the energy with which they faced life and their futures. 
Approximately one-fourth of the world's population is under 15 years of age, and another fourth are aged 15 to 30 years old. Given these numbers, it is no surprise that the youth's role in the world's development is high on many agendas. This year's UN World Youth Report, for instance, highlights the role youth (social) entrepreneurship plays in the Agenda 2030. But, as the report stresses:
Social entrepreneurship represents one extremely promising and socially advantageous self-employment option for young people but is not a panacea for youth development and in no way releases policymakers from their broader obligation to address the needs of youth in a comprehensive and sustainable manner.
Young people can play a considerable role in their development, but older generations need to set up systems and infrastructures that support young people in their development. As the voiceover in the UNICEF essays stresses, "If we are going to solve problems like poverty and inequality, we need girls to be part of the solution, and we need to make sure they are empowered to use their voices."
---
I love how the smartphone has proven to be a tool that empowers voices that ordinarily go unheard. Such as the girls' voices in the UNICEF essays. My favorite example of this is India's Video Volunteers. Years ago, they provided reporters in marginalized communities with flip cams (remember these?) to document injustices and other issues. These videos would be played back to government officials, and their response would also be recorded. A 2014 article in The Economist describes how this process both empowers communities and shames officials into action.
In the years since, Video Volunteers has grown, and its impact is undeniable. There are over 6,000 videos on their website, addressing topics from gender equality and LGBTQ rights to forced evictions and the environment. They claim to have touched 5,482,394 lives.
Fortunately, the videos do not only show victims, oppression, and exclusion. Every community is powerful and inspirational in its own way. There's even a section of videos about art and culture with beautiful videos of living heritage, which I'm sure many of you will appreciate. 
---
On to another medium. This week I binged the COVID-19 episodes of the Radio Diaries podcast. The short stories document how extraordinary people are experiencing the pandemic. Radio Diaries is another platform that gives a voice to the ordinarily voiceless. People such as Nanda, who became homeless during the epidemic and now lives in her van or Moe Monsuri, who has to survive the lockdown in lockup. The story that stayed with me most was that of Francesca and her father, Paul, who looked after each other in their family pizzeria.
(While Googling, I discovered that apart from a podcast, you can also listen to these stories on the NPR website, where they're grouped together as the Hunker Down Diaries.)
---
One last story. Earlier this year, I worked with others on an interview with the 103-year-old Riek Holman-Kluver. During the Second World War, Riek provided shelter for the Jewish sisters Bep, Sonja, and Emmy and their newborn son Robert. Unfortunately, Emmy and her son were caught and later murdered, but Riek's bravery helped Bep and Sonja escape. Riek and Sonja stay in touch until Sonja's death in 2010.
Originally we had planned for Riek to speak live at my kids' school as part of a fundraising project. We had to change our plans when the school closed down, and instead went for a video interview between a student and Riek. It's in Dutch, but the imagery tells enough of the story. Riek is a wonderful storyteller who hasn't lost any of her wit in the 75 years since the end of the war.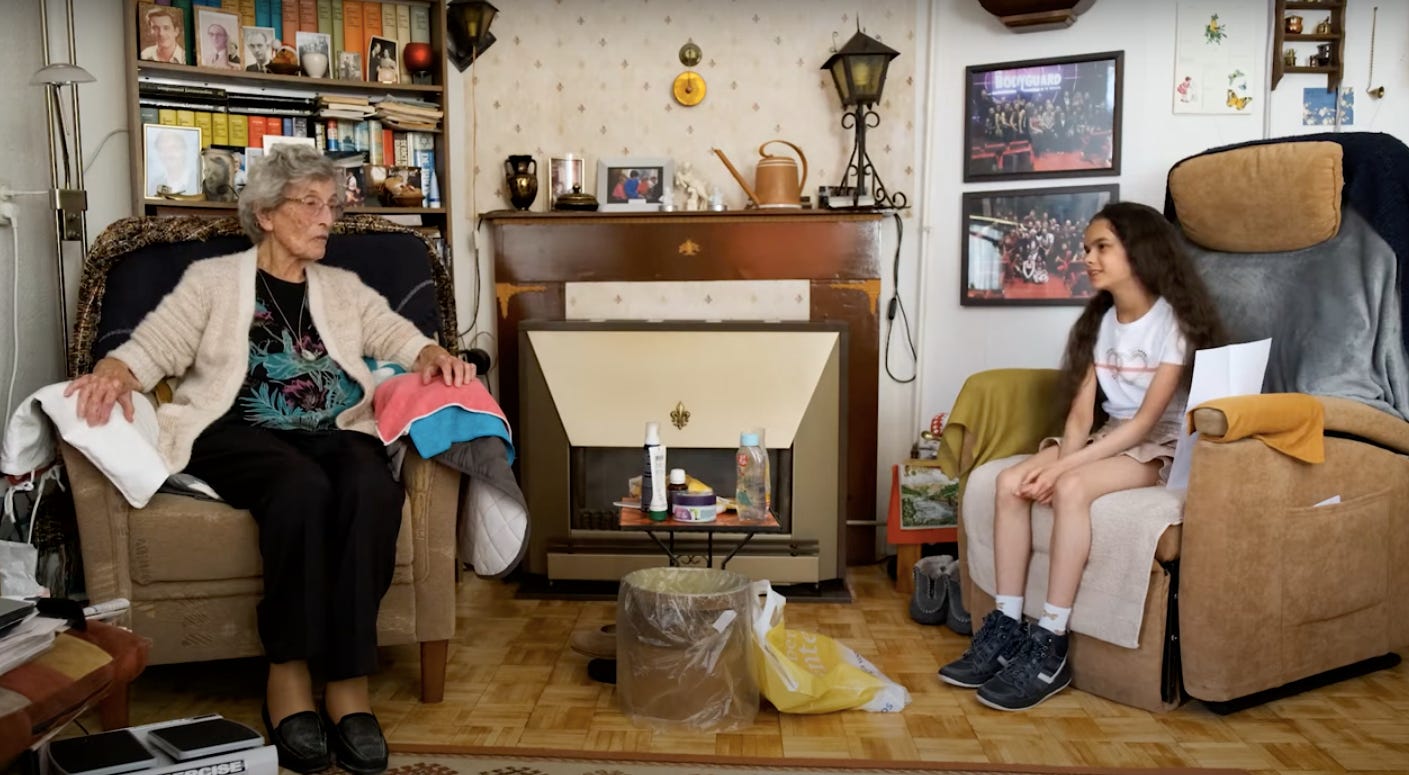 ---
Thank you for subscribing to this newsletter or reading it in another way. More and more, I feel that when I go on Twitter or LinkedIn, the beautiful community news it used to enable is overshadowed by poisonous politics and silly white papers. Newsletters are an excellent alternative, I think.
There's not a whole lot I didn't write about this week. Next week, I will spend five days talking with people about sustainable development, their community, and their future. I'm sure there will be a lot of things to say about that. All of that, next week! Until then, take care, all the best,
— Jasper