Discover more from Culture & curiosity
A regular irregular newsletter on culture, sustainability, community and anything else that piques my curiosity. By Jasper Visser.
#9 Word on the street
This week's newsletter is a bit different. 
I'm sitting in a beautiful park in Leiden. I've spent the last three days talking with kids and their parents in their city and the SDGs. We asked people about their favorite places and initiatives, and what should be improved to keep the city healthy, green, and liveable for everyone. "We" is Stichting 2030 and Leiden4GlobalGoals.
So far, we've had about a hundred in-depth conversations with small groups. I wanted to share some of my first unpolished observations with you. The topics that the children (and their parents) discussed — including activism, nature, and community life — will undoubtedly resonate with some readers.
A quick note on the methodology: These conversations were held in a public park but at a paid event, the Hooitocht ('Hay Trip'). This event aims to get people to explore the outsides and draws a crowd that likes nature, animals, biodiversity, etc. We didn't ask for personal data, but from my own observation, I can say that we didn't talk with a representative sample of Leiden's population (although it was more diverse than The average cultural crowd). The conversations were structured, but with kids (aged roughly 4 to 10), it was typically impossible to follow the structure to the letter.
Together with the participants, we added information to the city map—green dots for good places, red for the ones that can be improved. We asked the children to fill in some data on a little card for each dot, or we did this for them if writing was still a bit too hard. We always approached the kids and started by asking where they lived and worked from there.
The answers we received are probably unique to Leiden, but some of my observations may apply to your city or community.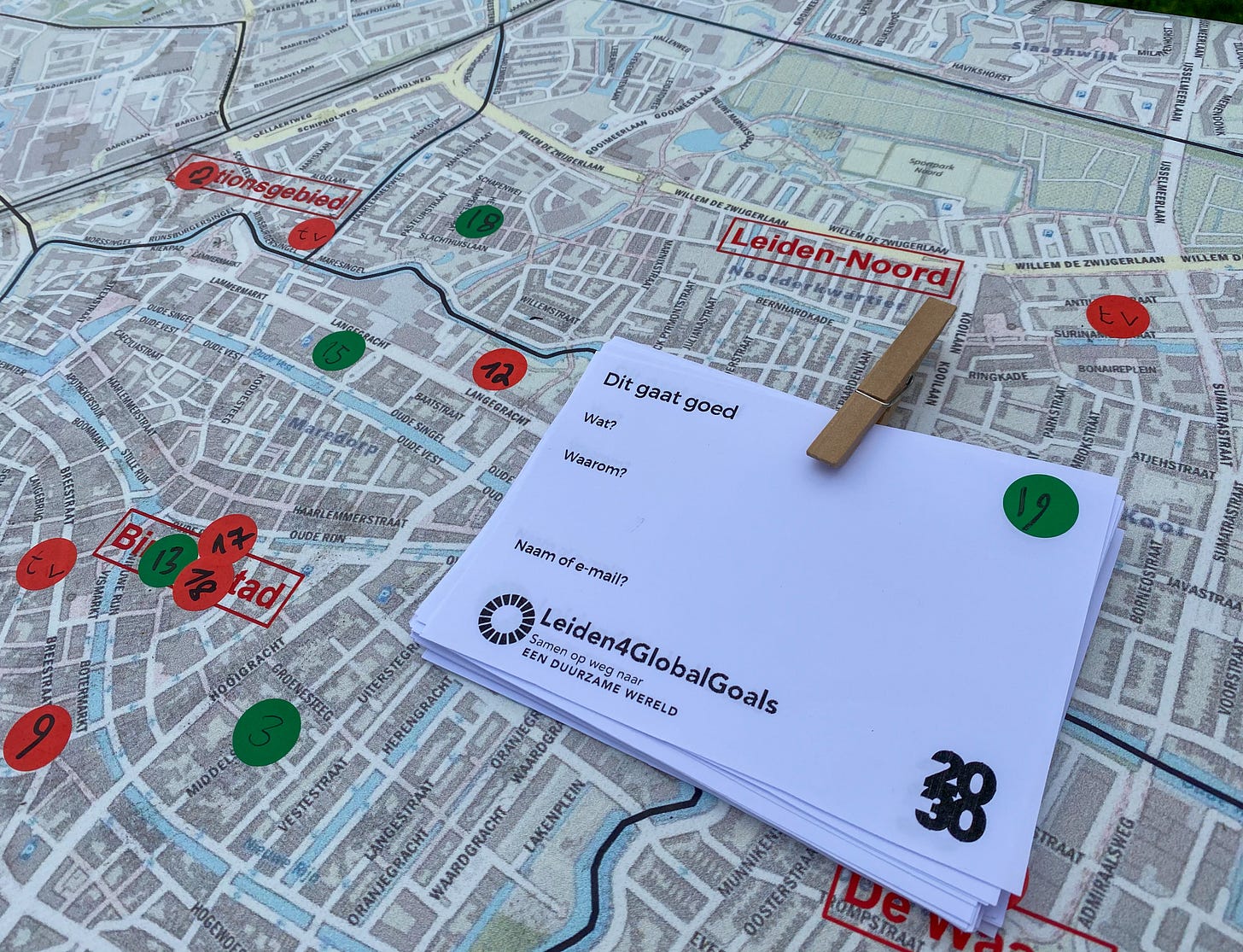 ---
So, generally speaking, what is going well?
The participating kids seem very content. This is not surprising, given that Dutch kids regularly rank among the happiest in the world (although I found it hard to find a recent trustworthy source for this often-repeated idea).

Moreover, they seem to be almost universally content with where they live — their immediate neighborhood. Unless there is noise or pollution, that is.

Most children and their parents described positive developments in their immediate community regarding biodiversity, nature, and the development of green playgrounds.

Kids rate the places they can go to by themselves much higher than the areas where they need to go with a parent, even when they have more services.

Parents appreciate the new approaches to mowing the grass alongside bike paths and roads, where mowing is done only rarely to allow grass, flowers, and other plants to grow more freely. They love to see this laissez-faire attitude to public green spaces more often.
---
And what can be improved?
Every playground needs a zipline. (Is this also a trend where you live? When I was young, in my municipality of 30k people, there was one playground with a zipline. In my current similarly-sized suburb, there are at least five I know of.)

Kids, and especially the older ones (8-10), want meeting places where they can be without parent supervision. As most of the city's public space is taken over by cafés and other services, they do not feel there is enough space simply to be. When prompted, they potentially see the library and some museum courtyards as such a place.

Instead of blending into their environment, children want waste bins to stand out in bright colors, so it is super apparent they are there.

Kids and their parents want more places with 'wild' edible plants, and they want to know if the existing fruit trees are safe to eat from. For instance, the apples that grow next to a busy street, can you eat these? (Anyone?)

Children want more control over the green spaces in their own environment. Mostly, they want to be able to plant their own flowers and plants.
---
Some first observations from the conversations
The 'good spaces' in the city are under-utilized. People tend to be aware of what's around in their own neighborhood, but do not know about the other side of a busy road or waterway. Consequently, participants repeatedly asked for an excellent green playground (of which there are at least three in the city, never more than a 10-minute bike ride away). They longed for a picking forest, which also exists. And the list goes on.

The 'good spaces' themselves often only serve a singular or limited purpose: biodiversity or playground or meeting space. The best and most appreciated spaces combine functions. Even when this is haphazard and unplanned, people love these spaces.

This is very Dutch, but waterways play a significant role in people's stories about the city. Even though water is almost only used for entertainment, it is mentioned as much as streets, good ways, and bad.

The SDGs. In the Netherlands, about 1 in 5 people are aware of this global agenda. We had an image of the SDGs prominently featured in our stand and referred to it when the conversations moved to include the parents. The few parents that know the SDGs immediately respond well. Much better, in fact, than I had assumed. People placed the conversation we'd had in a broader framework where they would know other initiatives that also explicitly worked on the SDGs. I think this may create networks of activities for sustainable development, even when individual actions are independent.

Children in the Netherlands really dislike cars in their neighborhood.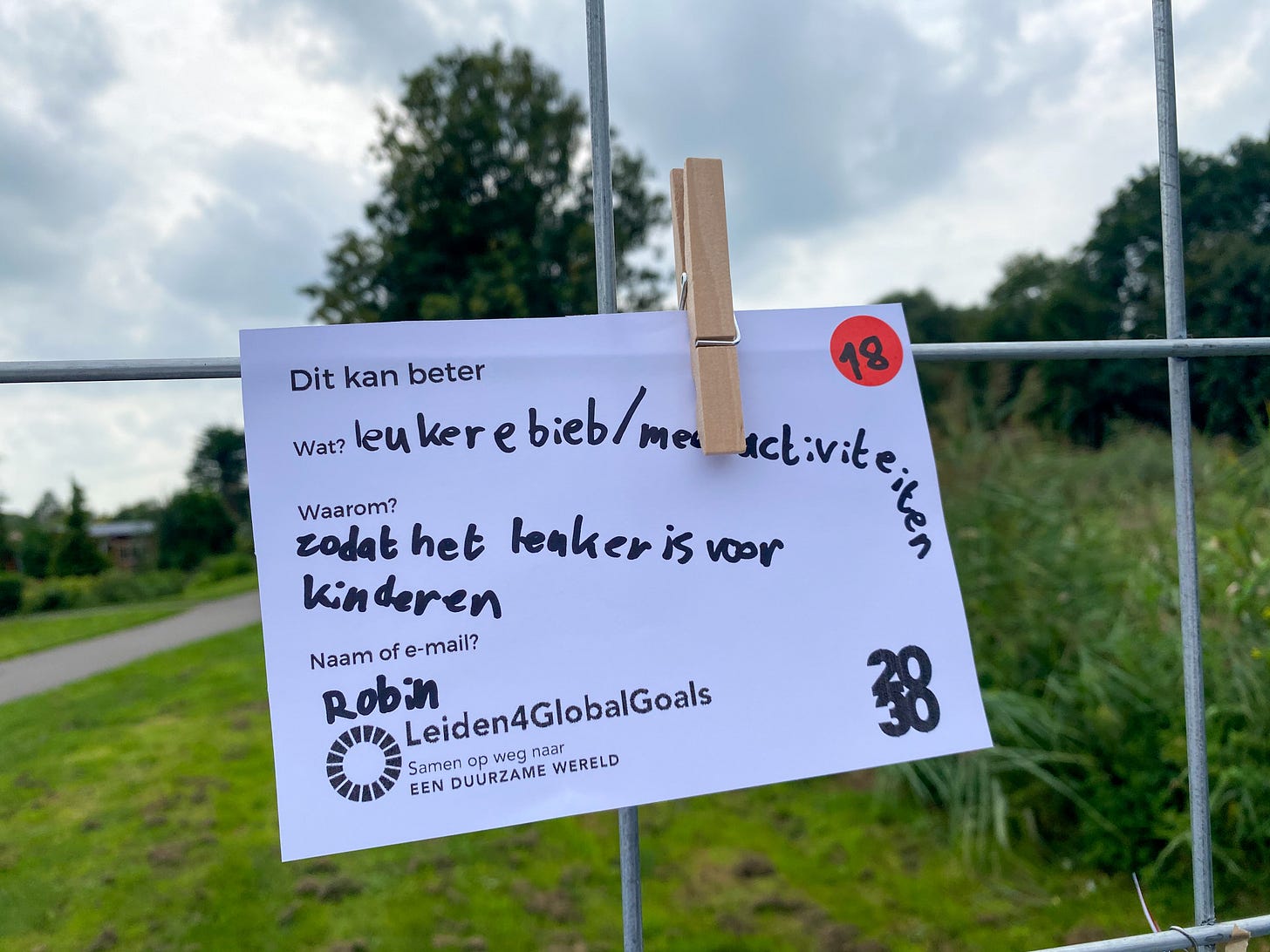 I still need to go through the approximately one hundred note cards we filled with comments and ideas so far. I know there's much more in there that's worth studying. We'll use the results in several ways. I plan to visit most — if not all — of the good spaces people mentioned. I will also go to the red spots that need work. Also, with the networks we are building in the city, we will create working groups to address the things that can be improved. Using the knowledge and experience that exists in the community, we want to strengthen what works well and improve what needs improving. 
Personally, I really enjoyed being on the streets and talking with people again. Stichting 2030 started with its public-facing work in January, and COVID-19 drew a line through our programming. Although we facilitated a few expert sessions before the lockdown and set up public events digitally, I feel we weren't as open as we've been the past few days.
I look forward to building on this success and work on our ambitions with renewed energy. (Feel free to follow Stichting 2030 on Twitter or Instagram to stay in the loop.)
Thanks a lot for subscribing to this newsletter. Next week, I'll catch up on the reports and media and more ordinary content that I usually share. Now, the sun is shining (with rain underway), and I'm about to start another forty conversations about the future. A special thanks to the Leiden4GlobalGoals team—Gijs, Anna, Nanda, Frouke, Annika and all others—who helped where they could this week. You're all stars. Have a wonderful day!
— Jasper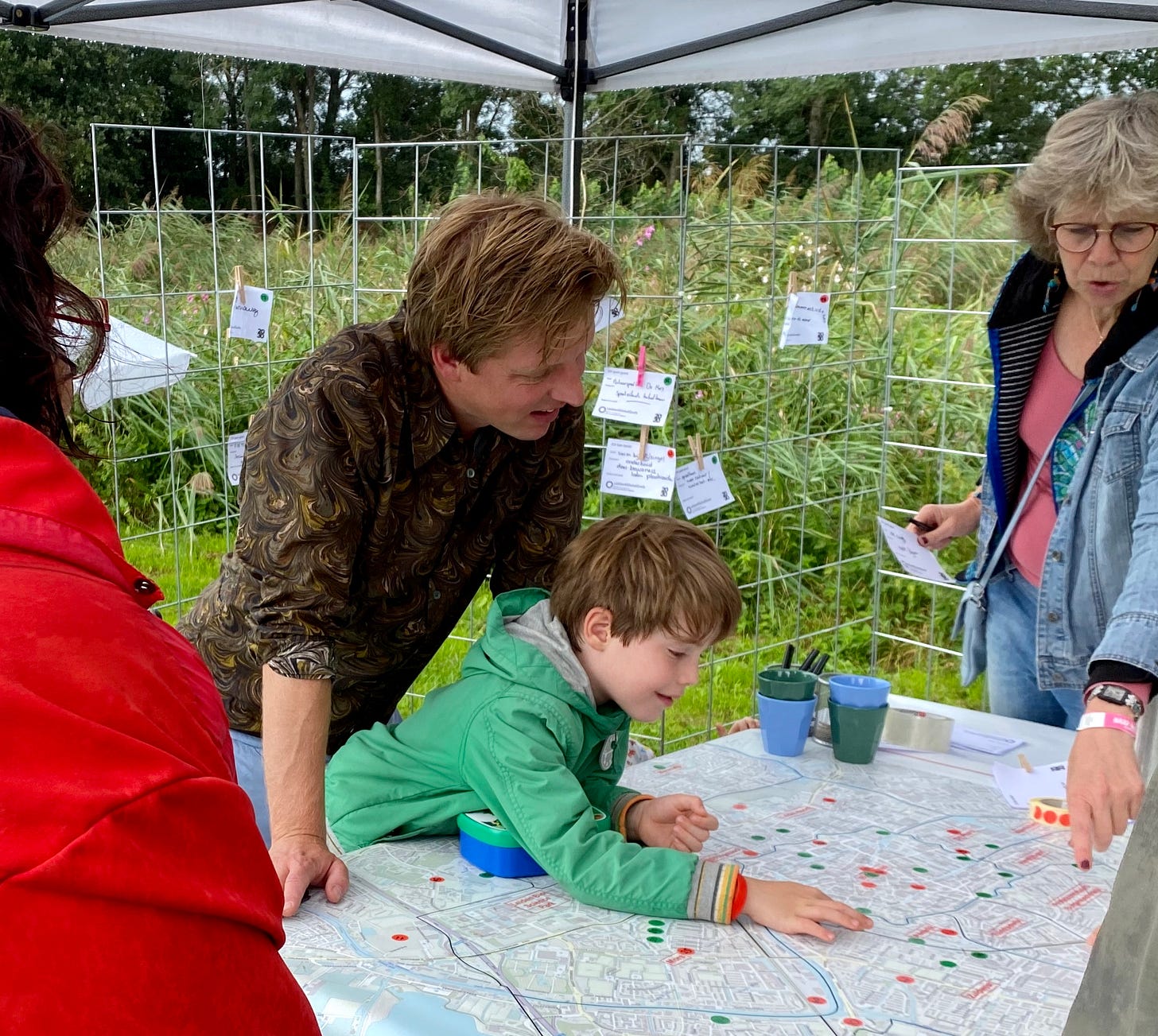 On a personal note, I especially liked yesterday, when my favorite idealist and the world's greatest event promoter helped me. :-)